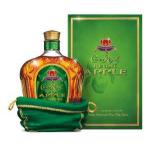 11.30.-0001
CROWN ROYAL APPLE

The blend opens with a nose of bright apples balanced with our signature Crown Royal whisky and hints of spice. Crown Royal Regal Apple offers a flavorful palate of slightly tart, crisp apple with notes of caramel and light spice that culminates in a full-bodied smooth finish of refined apple notes.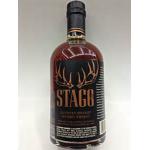 STAGG JR.

George T. Stagg built the most dominant American distillery of the 19th century during a time known as the Gilded Age of Bourbon. Uncut and unfiltered, this robust bourbon whiskey ages for nearly a decade and boasts the bold character that is reminiscent of the man himself. Rich, sweet, chocolate and brown sugar flavors mingle in perfect balance with the bold rye spiciness. The boundless finish lingers with hints of cherries, cloves and smokiness. AWARDS *2014 Silver Medal - International Wine & Spirits Competition *2014 Silver Medal - Los Angeles International Wine & Spirits Competition *2014 Double Gold Medal - San Francisco World Spirits Competition *2014 Bronze Medal, American Bourbon Whiskey No Age Statement - World Whiskies Awards *2014 Excellent/Highly Recommended - Ultimate Spirits Challenge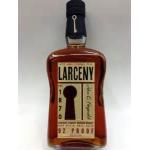 LARCENY BOURBON

Larceny was hand selected by the Master Distillers to have a taste profile of a six-year-old Kentucky Straight Bourbon Whiskey. Made with wheat as the secondary grain, instead of the traditional rye, Larceny is a smoother tasting Bourbon. Color:Bright new copper Aroma:Fresh bread and toffee, with a note of butterscotch Taste:Buttery caramel and honeyed notes, with a rich mouthfeel Finish:Long, gently sweet and savory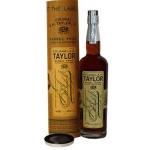 E.H. TAYLOR

Crafted from hand-selected barrels, this bourbon is bottled directly from the barrel; uncut and unfiltered at more than 125 proof. It reflects the way whiskey was produced in the days before Prohibition, when Edmund Haynes Taylor, Jr. was the owner of Buffalo Trace Distillery. Drawn from barrels aged in warehouses constructed over a century ago under Taylor's watchful eye, the taste is smooth, yet powerful and uncompromising, just like its namesake. NOW AVAILABLE AT NICK'S!!